Never promise anything. Trying to process my thoughts on Forced Entertainment's Complete Works has become one of these writing-into-a-bigger-argument things… Following the numbered plan I had in mind last time, this was (all) going to be #3; I then realised that what I had planned for #4 or #5 were asides that other people have said better elsewhere. Bits of them might get factored into a version of #6, if I get round to thinking that into prose on here. What a mess. In compensation, this one has a fancy epigraph…
 "It is not inconceivable that the author of this prodigious body of work, these plays for which the world has never ceased to feel grateful, was ashamed at what he had done." (A.D. Nuttall, on the Epilogue to The Tempest)
It's become customary to taxonomise Forced Entertainment's work based on the different ways in which the "real identity" of the performers gets mediated: if the shorter, noisier, theatre work apparently presents performers failing to put on a decent show, these performers are also, clearly, carefully-controlled personae; the durational work gets it force from the fact that everyone starts flagging, but what happens when they flag is always going to be preconceived and rehearsed. Liz Tomlin's summed this up by saying that 'through a skilful construction, and then removal, of layer upon layer of artifice, Forced Entertainment continually leaves its audience with the illusion of something more essential' (84). I think, in Complete Works, something slightly different is happening: those established practices of skilled construction-then-removal now have to mediate the kind of task – solo, extended, demanding of memory and attention – that requires and indeed demonstrates skill in its own right. And – much as if you get six people to throw a pot even within fixed conditions and parameters, they'll produce something slightly different – I kept thinking that this production was unusually invested in the 'essential' thumbprints that each performer placed on otherwise similar material, a print which might be inarticulable but which I really don't want to be mere illusion.
I want to try and give an example but, as soon as I outline it, I think it'll become a counter-example. One of the challenges that this project was always going to throw up was what to do with Shakespeare's original text. For a paraphrase to be a paraphrase, surely it has to avoid direct quotation. But, as Tim Etchells makes clear here, Shakespeare's influence on contemporary English (and, more inarticulably essentially, on ways of thinking-into-language both in his plays and ever since) is such that it's impossible to do without the original. So I was struck by the overall difference in approach between the two performers whom I ended up watching for longest, Jerry Killick and Terry O'Connor. Killick was notably willing to offer some of the famous quotes at length, closing his Midsummer Night's Dream with the first four lines of the play's epilogue, or to use them to counterpoint the phrasing that most pointedly updated or deflated Shakespeare: Viola's talk of music echoing to "where love is throned" was followed by 'Well, aren't you the poet?' in place of Orsino's 'Thou dost speak masterly'. While O'Connor seemed to introduce the odd quote in this way ("lions make leopards tame" in Richard II might count as an example), the overriding impression was of somebody trying actively to dodge the famous lines: her conclusion to Hamlet dragged out Horatio's admission to 'bloody… carnal… and unnatural acts', having been full of lines in which words seemed to be changed for the sake of it, as if failing to meet the criterion of being properly different paraphrases (you could trap Hamlet 'in the shell of a nut' and he'd be 'king of infinity'). In a quirk that was just about frequent enough to appear diagnostic, famous rhyming couplets were paraphrased in such a way that the rhyme was transferred to alternative words: Hamlet admits to Gertrude that he has 'done as bad a thing as kill a king'; the Prince of Verona promises that people will 'never forget the story of Juliet and Romeo'. This last is as good a symbol as any of Nick Ridout's understanding of the performance poetics of embarrassment which I've discussed before: the more that you try to conceal something you don't want to reveal, the more it becomes apparent. Ridout's thesis takes its cue from Forced Entertainment's earlier work, and its recurrence here got me thinking about how Complete Works intersects with the company's wider fascination with the discomfort of bearing witness and being witnessed. I started to play with the idea, given the broadly similar scenic design, that each telling might be an extrapolated present-tense version of a Speak Bitterness confession, with the speaker bearing testimony of the (un)lucky deeds to an unknowing world. As those quotes hint, it's an idea that's seeded at the end of Shakespeare's tragedies, and, like the 'mixed domestic environments' business, builds a ghostly narrative frame: you can imagine an authoritative voice saying 'take as much time as you like… use any props you need…' (The fact that, broadly speaking and from what I saw, the remaining four performers were similar in approach to (fellow permanent company member) O'Connor than (regular collaborator) Killick might back up this kind of connection. Or it might not.)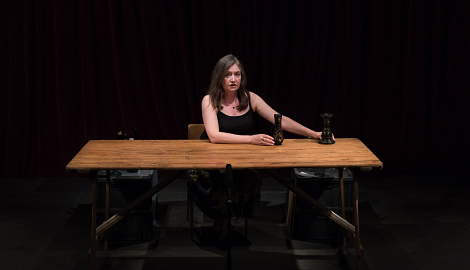 Is this just a quirk though? I arrived too late to the big Guardian-hosted streaming party on Sunday 28th to identify precisely what sparked Lyn Gardner's comment that 'fact this is being told by a woman is crucial' – but the very first thing I caught, Cathy Naden's last line from Measure for Measure ('so she says nothing… she doesn't even hold his hand'), would seem to be part of the wider evidence for it. I'll confess, and this is a real confession, that it took me a few moments to buy the full weight of Gardner's claim. 'Crucial'? If I was telling you the story of Measure for Measure, as a decent modern trying-to-be-a-feminist-ally type who studied the play at A Level, I'd make a point of emphasising the barbs in its gender politics.
And yet, and yet… the revelatory moment which converted me to Gardner's claim is O'Connor's 'And he says that women… are frail'. (And while the paraphrases sometimes imagined the soliloquies as acts of thinking, this was, significantly, one of saying). The paraphrase creates a frame in which, uniquely, a woman is being made to utter this line as a self-condemnation on a man's behalf – and in which it becomes more slippery whether that man is Hamlet or Shakespeare. Even a production which imagined Hamlet as female could still soften this with the barest consolation that Hamlet his being given enough agency to condemn herself. Where a dramatised production would either ignore these awkward statements, or find a way to maintain ironic distance from them, here they sit imperfectly mediated, half-digested, embarrassed.
Pricked by my own shame at not noticing this, I began to see more and more moments like this coming up, particularly in O'Connor's contributions: sharing other characters' embarrassment at the Nurse's insistent innuendo in Romeo; then more explicitly, in Comedy of Errors, with 'she's been very… he actually says "shrewish" but let's say "suspicious"'. This is not even a game anymore. It's suddenly no longer about feeling slightly embarrassed or just mock-embarrassed by the process of executing the paraphrase of Shakespeare properly; it's about recognising that Shakespeare's texts are, at moments and for some people, genuinely shaming, and that there is something shameful about me, or the UK, or the world, granting them the cultural capital that we do. But – as embarrassment dictates – Shakespeare can't quite be removed from view and his currency debased altogether.
I'd like to imagine that the "no longer" dimension applied just as much to the process of devising the work as it did to my response to it: just as Merleau-Ponty once noted that we all magically fall asleep by pretending to be asleep, and in my experience crying tends to be preceded by "getting worked up" and a moment of admission to yourself that you're about to start crying, guilt at performing Shakespeare might need to be fantasised before it can be sincerely felt. And might this in turn lead to embarrassment, as it did for me, that this embarrassment wasn't sincerely felt in the first place?
As I said, all this exposition casts doubt on my initial discovery of some essential performative thumbprint – but not entirely. (Brace yourself…) Much as I've previously argued that these plays worked by enchanting and disenchanting a host of objects that were never disenchanted in the first place, I believe that they simultaneously made a kind of appeal to the here-and-now particularity of what each performer skilfully achieves and a demand to reflect on the grubby ethical implications and origins of this practice as soon as the skill is articulated as such. I think I've come to something like a reverse of Tomlin's position: while the demand to reflect on ideological concerns shows up 'the illusion of something more essential' for the illusion that it is, the existence of the demand itself depends upon 'skilful construction', an essence of practice which cannot be faked.
Image copyright Forced Entertainment 2015.